We were a ways up in the mountains for a dinner yesterday and I cautioned the people who were hosting that mosquitoes could easily be found at their 7,600 foot level. I said the West Nile season was usually in August and September, but one of my gourmet group told me there had already been a first case in Colorado and West Nile positive mosquitoes in our county. What I discovered online was 94% of West Nile symptomatic cases occur between July and September.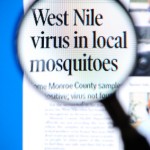 Today I found the West Nile advisory page for Larimer County where we live and the CDC's West Nile statistics that mention 23 cases nationwide through July 16th with three deaths. Forty-three percent of the patients had West Nile Neuroinvasive Disease (WNND); the others had West Nile Fever (WNF). Twenty-nine states and the District of Columbia have reported human disease thus far.
And it's still early in the Summer of 2013.
Then I went back to the last of the four articles in the July 17th edition of JAMA; this one covers information intended for physicians and goes into more depth than the others. Its title is West Nile Virus: Review of the Literature. I thought there would be a few nuggets of information that might be useful for an extended audience
To start with, West Nile is endemic in every state in our country except Alaska and Hawaii. That means it is found in each of those regions on an ongoing basis without the need to be imported each year. An example I found said chickenpox is endemic in the UK, but malaria is not. Canada has had no cases of either WNF or WNND thus far in 2013, but had 428 cases last year with five provinces reporting patents with the virus.
Here it is a much more frequent disease problem that has led to the three worst outbreaks of arbovirus neuroinvasive disease in US history, each leading to ~3,000 cases of encephalitis, meningitis or sudden onset of severe muscle weakness (AKA acute flaccid paralysis). Arboviruses are those carried by ticks, mosquitoes and similar species. Older adults don't have a greater chance of developing WNF, but a markedly increased chance of WNND. One of fifty who catch West Nile and are over 65 get this dire form; that's sixteen times the rate for those age 16 to 24. The death rate in patients with WNND is ~10%, lower in relatively young patents, higher in the 65+ age bracket: one series reported 0.8% mortality for those under 40 and 17% for patients over 70. It's unknown how the virus crosses the blood-brain barrier, the super-tightly-packed cells that line the brain's blood vessels, preventing passage of most substances.
2012 was a really bad year for human disease in this country. The CD's final summary for that year included 5,674 cases, with 2,873 of those being WNND, and 286 deaths. The state of Texas had 37% of all reported cases and California, Louisiana, Mississippi, Michigan, Oklahoma and South Dakota were also hot spots for West Nile.
The virus has been found in over 325 bird species in the US and 65 different mosquito species, but only a few members of the Culex mosquito family have been shown to transmit West Nile to humans. Culex mosquitoes bite us from dusk to dawn, so, as I mentioned in my last post, I've changed what I wear when outside during those hours.
Passerine (perching) birds can infect mosquitoes; the robin isn't as plentiful as some species, but has a high serum viremia (lots of the virus in its blood), so is an important reservoir. If we are bitten by an infected mosquito and go on to develop WNF we'd have a low serum viremia, so a second mosquito biting us won't get the virus from us. Mosquito bites are responsible for almost all human cases; rarely one can occur after an organ transplant or a transfusion.
Higher-temperature areas both shorten the time a mosquito infected with the virus becomes infectious when it bites again and also improve the efficiency of it transmitting the virus to a bird. Of the 5 lineages of the virus only two have caused significant human outbreaks, but the 1999 New York City lineage has genetically altered subsequently to improve viral transmission. I don't know if this is true worldwide, but there have been significant outbreaks in Russia, Israel, Greece and Romania since the early 1990s.
Most who get a West Nile infection, as I've mentioned before, remain subclinical (e.g., without enough symptoms to need medical attention). In a study of blood donors who had West Nile viremia, but no significant symptoms initially, 38% eventually saw a physician and 2% were hospitalized. Only 5% of those seeking a diagnosis got the correct one!
West Nile in pregnancy, in one study of 71 women who delivered 72 babies, did not result in any malformations or infected infants.
Full recovery is the norm for those who have either uncomplicated WNF or meningitis, but they may be fatigued for a considerable length of time. In a 2004 study of 98 patents, almost all had this symptom and its median duration was 38 days. The patient's age didn't predict the duration of symptoms.
There are four licensed equine vaccines, but none for us. Several candidate human vaccines have gone through early trials, but no large-scale clinical trials have been attempted. Given that, if amazes me that even during outbreaks few of us use insect repellents that have proven efficacy.
If this West Nile season is like last year's, please heed the warnings, empty the water containers at intervals, avoid gardening at dusk or later and use an insect spray.
The brain and even the life you save may be your own.