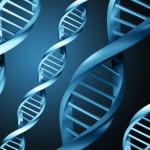 An article in the the October 10th edition of the journal Nature Genetics looked at the overall body mass index, BMI (a height to weight ratio that's is commonly used to determine if you're lean, overweight or obese), in nearly a quarter of a million people. The researchers involved in these studies found a number of genes, nearly half of which were previously unknown, linked to obesity.
This news doesn't translate well into common English for most of us, even those of us who've been involved in medicine for most of our lives. So let's go a step or two into what is actually going on.
We all know people who seem like they can eat anything and not gain weight; most of us also know others who say they 'eat "like birds" and just can't lose weight.
Many of the genes that have been linked to obesity seem to play a role here, both in terms of how much we eat (appetite regulation) and how we burn calories (energy balance). Does that help us solve who is going to become obese and who isn't?
One obesity guru commenting on the article relating to BMI said asking patients if their parents were obese or not is a more accurate predictor of that person's  person's likelihood of obesity than all the genetic information in these studies.
Another was quoted as saying the information obtained by all this genetic information is little better "than a flip of (a) coin" in predicting someone's risk of becoming obese.
So I think these studies are important, but suggest you don't rush out to get a DNA analysis. We're a long ways from being able to use this information clinically. If someone recommends you get a lab test based on this new data, they're probably going to make money from the test and you're probably not going to find out anything that will help you lose weight.
I've done basic science research, in my case many years ago, and it's critically important to the advancement of knowledge. But it usually doesn't give us direct answers to real-world problems, at least not immediately.
We've got physicians and researchers from other disciplines exploring obesity in detail. Let's applaud their work and support their studies.
But wait for the breaking news before opening your purses and wallets.
Tags: articles on obesity