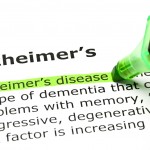 A while back I read an article in the Wall Street Journal with the intriguing  title, "Detective Work: The False Alzheimer's Diagnosis." The story was that of a man who developed problems in the memory and movement arena, was treated for Parkinson's and eventually found to have normal pressure hydrocephalus (NPH), a buildup of the cerebrospinal fluid (CSF) that surrounds and helps protect the brain and spinal cord.
Hydrocephalus, sometimes called "water on the brain," can occur at any age, but is more commonly seen in infants and seniors. When it is present in the very young, often due to a birth defect in which the spinal column doesn't close properly, it puts pressure on the brain and skull usually resulting in an abnormally large head and a bulging of the fontanel, the soft area on the top of the baby's head. It's treated, in many cases, by insertion of a shunt, a tube placed in one of the brain's ventricles (these are a communicating set of cavities filled with CSF). The tube has a one-way valve and is tunneled under the skin of the patient and usually empties into the abdomen.
The other age group in which hydrocephalus is seen more commonly is the over 60 age group. But it can certainly happen to younger adults as well.
One morning in 1990, when I was forty-nine, my wife noted I was having considerable difficulty with a particular kind of memory; the ability to recall something that was just told me was impaired. I turned out to have a benign mass in the center of my head (the technical term is a colloid cyst of the third ventricle) and had it removed by a neurosurgeon. Although the pathologist said it was benign, its location in that crucial area could have resulted in major brain damage or even sudden death.
If that were to happen today, it could be removed via endoscopic neurosurgery (an endoscope is a tube, usually flexible, for visualizing the insides of a hollow organ; it typically has one or more channels to enable passage of forceps or scissors). That procedure takes 45 minutes to an hour, is done via a one-inch incision and the patient goes home in one or two days.But, as you can see by clicking this link and then the photos in the article, colloid cysts have fairly large draining veins and they need to be most carefully attended to.
In my case, prior to the advent of the neurosurgical endoscope, the mass was removed the typical old-fashioned way by making several round holes in my skull and then the cyst itself. One of the veins leaked and I had a major seizure in the recovery room. That left me with a good-sized scar; on an MRI it's more of a cavity in the front part of my brain.
The scar impaired my short-term memory. I've managed to compensate, writing reminders and keeping a calendar, but I developed an interest in Alzheimer Disease and related memory issues, many of which are age-related and some of which are reversible.
The article on "False Alzheimers," notes that >100 medical conditions can present with memory loss, confusion and personality changes. Medications, or drug-drug interactions should be high on the list of things to rule out. An April 2012 article on autopsy studies of over 900 patients thought to have Alzheimer disease found over a sixth had been misdiagnosed.
The prevailing opinion is that NPH is the cause of five or six percent of all patient felt to have dementia. Adult-onset hydrocephalus is different in many respects from that which happens in the very young. It results from a gradual blockage of the conduits that normally drain CSF. It's not uncommon for the person with NPH to think that their symptoms are typical for the aging process.
But difficulties in focusing your eyes, an unusual series of headaches, personality changes, seizures, leg weakness and/or sudden falls should be investigated; it's wise to see your physician if  any of these occur, especially if there are associated memory problems.
Then there are, as Dr. Daniel Schacter, the former Chair of Harvard's Psychology  Department calls them, "The Seven Sins of Memory ," age-related memory issues that we all will likely encounter as we grow older. Being absent-minded, blocking the retrieval of a piece of information (It's on the tip of my tongue), or not remembering a complex chemical formula you learned for a college freshman course fifty years ago all can be totally normal. His book on the subject book revolves around the theory that "the seven sins of memory" are similar to the proverbial "seven deadly sins," and that if you try to avoid committing these sins, it will help to improve your ability to remember. Schacter, on the other hand, argues that these features of human memory are not necessarily bad, and that they actually serve a useful purpose in memory.
My comment over the years has been, "Whenever I put a fact in the front of my mind, one falls out the back."
So don't assume the worst if you forget something; on the other hand, don't ignore memory problems if they are persistent.
Tags: age-related memory problems, Alzheimer's, colloid cyst, Daniel Schacter PhD, endoscopic neurosurgery, hydrocephalus, hyponatremia, memory, normal-pressure hydrocephalus, shot-term memory, ventricles of the brain